Whether it is for analysis of food quality, food safety, or tissue-based diagnostics, isolating viable primary cells extracted from plant and animal tissues are essential for testing. Companies currently use manual means to dissociate tissues in order to extract these cells. A technician spends time preparing an organ by cutting the tissue with scissors. This is followed by 35 minute homogenization protocols, where they are blended, ground, scraped, and/or frozen in many different ways depending on the tissue. If more samples are needed, most industries can only hire more technicians to increase their production.
Fraunhofer has designed and built numerous semi-automated tissue homogenizers and plant tissue dissociators that make greater quantities of quality samples faster. These machines are based on the shearing process of a mortar and pestle grinding model with an elegant mechanism that allows the simultaneous processing of an array of up to 24 samples, with only two motors and minimal moving parts. The process can be modified by simply varying the speed and pressure of the operation as well as the surface geometry of the pestles.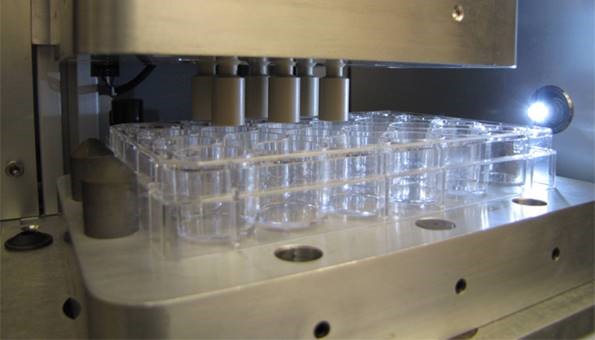 The instrument can successfully prepare mammalian samples in 30-60 seconds (compared to the manual protocol of 35 minutes). While for some tissues, automated dissociation decreased the viability of the sample, it also generally released more primary cells than manual processing. This led to a higher total number of viable cells per tissue. The instrument substantially reduced our client's workloads. Therefore, the instrument matched or far exceeded manual methods depending on the tissue while reducing the total processing time 35-fold.
To learn more about the family of custom homogenizers and dissociators designed and built for your unique requirements please contact our Head of Business Development, Bill Mosolgo bmosolgo@fraunhofer.org