Continuous Wafer Synthesis for Solar Cell Production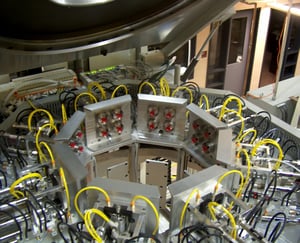 Customers
National Institute of Standard and Technology (NIST) and a large solar cell manufacturer: SCHOTT Solar CSP GmbH
Technical Summary
Fraunhofer USA CMI worked with a solar cell manufacturer, under the National Institute of Standard and Technology (NIST) sponsorship, to develop a continuous crystal growth system that automatically goes from "melt in to wafers out." As the crystal grows, it is automatically cut into wafers that are stacked and ready for down-stream operations. Through the development of custom automation, Fraunhofer USA CMI turned the conventional process of growing crystal tubes in batches, storing them, and later cutting them into wafers, into a more efficient continuous manufacturing process.
Results
Higher solar cell wafer manufacturing efficiency

Continuous, all-in-one production system

Melt in, wafer stack out

Converted a traditionally batch process into a continuous process

Saved valuable floor space by combining multiple steps

Incorporated automated crystal drawing, laser cutting, and debris collection.